A Kitchen Floor Now Looks Impeccable After a Remarkable Tile Cleaning in Philadelphia, PA
November 16, 2023
A resident from Philadelphia, PA, was struggling with the maintenance of one of the surfaces in her house. The owner spent a lot of time in her kitchen, but recently, she noticed the floor was in poor condition. The ceramic tiles and the grout lines had an unsightly appearance. She was not happy with this situation and she wanted a fast solution. However, she didn't have the time to restore it herself. The owner decided to look for a professional hard surface restoration company. Thankfully, we were there to provide the assistance she needed.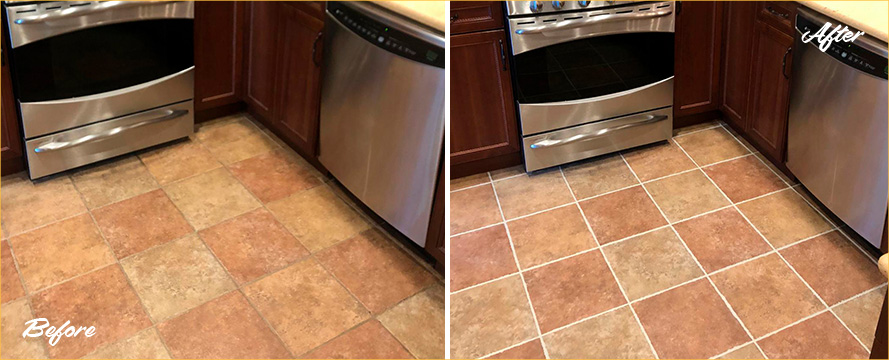 The owner found Sir Grout Bucks PA and West NJ with a quick internet search. She went online and typed
Philadelphia Tile Cleaning
services on her search engine, and the top results led her to our website. After browsing our
picture gallery
, and reading the glowing reviews our satisfied customers have written, she was convinced we were the best option. She called, explained the situation, and asked for a free inspection.
A few days after receiving her request, we arrived to perform the in-home consultation. Since the owner was expecting us, she quickly led us into the affected area. As we entered the kitchen, we noticed the problems on the floor. The grout lines were full of dirt and the ceramic tiles had a run-down appearance. Because of this, the entire surface looked unsanitary and unappealing. Upon closer inspection, we learned the grout lines needed sealing. This common mixture is porous, and when it is unsealed, it can absorb all sorts of external agents. To prevent further damages, it's necessary to apply a special sealant.
The thorough inspection gave us enough insight to offer a solution. We had determined that regular cleaning methods wouldn't be effective, so this job would require Sir Grout's professional process and top-of-the-line equipment. We proposed a tile cleaning service to address all the issues, revamp the kitchen floor, and give the surface a new look. Before providing a quote, we proved the effectiveness of our methods by briefly testing our products on the surface. The amazing results convinced the owner to hire us without wasting any time.
The restoration began as scheduled. As soon as we returned, we prepared the equipment and proceeded with the tile cleaning job. For the first step of the process, we cleaned the surface using our exclusive cleaner and a high-speed scrubber. Our product won't cause any damage to the tiles or grout because it doesn't leave a residue and it's made with high-quality ingredients. Our cleaner loosens the soiling and our machine scrubs it out. Once the surface was spotless, it was time to begin the grout repairs.
Many homeowners find cleaning grout tedious and troublesome. Common methods are not effective against certain damages like stains or discoloration, and because of this, maintenance becomes challenging. Nevertheless, Sir Grout Bucks PA and West NJ has the tools and the knowledge to easily fix any issue on this vulnerable component. We worked on the entire floor, giving the grout lines a superb new look. After that, we followed with the sealing process.
For this step, we used Sir Grout's ColorSeal. Our flagship sealant provides long-lasting protection, warding off dirt, grime, and other external agents. This reduces deterioration and makes cleaning routines easy and fast. Our sealers also offer unmatched UV defense, minimizing solar damage. ColorSeal greatly improves the surface by giving the grout a uniform color and a brand-new appearance. It comes in a wide range of colors, so our clients can choose the most suitable tone for their surfaces. As expected, our work finished with remarkable results, the surface had been fully restored, and the ceramic tiles looked wonderful.
After a successful restoration, we were ready to show the results to our client. The owner was very impressed with the new look of her kitchen floor. She was beyond thrilled because the process was cost-effective and it didn't take much time. After thanking us, she said our performance surpassed all her expectations and assured us she would recommend Sir Grout Bucks PA and West NJ to her friends, family, and neighbors.
Kitchens receive constant foot traffic, and because of this, surfaces can deteriorate quickly. For this reason, these areas require proper care. Following Sir Grout's recommendations is essential to prevent damages. To minimize the accumulation of dirt, we suggested setting up a weekly cleaning routine. Perform this task using only pH-neutral products like
Sir Grout's Natural Hard Surface Cleaner
. Our product is soap-free and provides the best results. It is also non-toxic and safe for everyone in the house, including pets.
We don't recommend using soap-based cleaners or substances with acidic properties. The harsh agents and chemicals in these products can leave negative effects on the surface. They also leave a residue that seeps into the grout, which can cause issues like staining or discoloration. Apply the solution using a clean mop and make sure to keep children and pets away from the wet surface. Let the floor dry completely before entering the room again, and avoid using abrasive tools because they can scratch the tiles.
Countless satisfied customers can confirm Sir Grout Bucks PA and West NJ's tile cleaning services are the best in town. If you are having problems with the maintenance of your floor, don't worry, our certified techs know exactly what to do to help you. As a leading company in the hard surface restoration industry, we have years of experience and reliable solutions at your disposal. Don't hesitate to contact us by calling
(215) 450-5763
or by clicking the "Schedule a FREE Quote" button on this page for a free in-home consultation. If you would like to keep up to date with our latest info and promotions, please don't forget to subscribe to our
newsletter
.