Our Caulking Services in Glenside, PA Spruced-Up the Look of This Grungy Shower
July 28, 2023
Showers can be one of the most demanding and difficult environments to keep in good condition. They are challenging to maintain because the constant high humidity, lack of ventilation, and soap residue can cause a host of issues that are not easy to fix through conventional means. Without proper upkeep, a shower can begin to degrade in a matter of weeks. One of the problems that lead to the deterioration of the surface is when the caulking in the joints begins to crack. This can cause structural damage by allowing water to seep into the walls. The caulk can also turn dark black or reddish, which typically means it is harboring mold and mildew. When this happens, it becomes a health risk for everyone in the house. Our next clients were having these problems in their shower when they decided to hire our professional
caulking services in Glenside, PA
.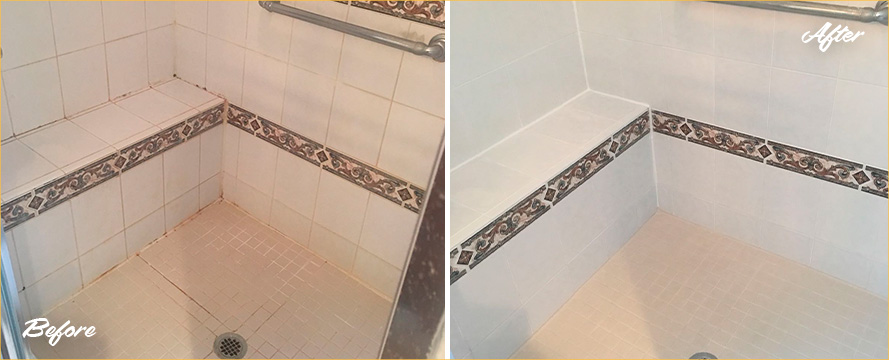 A married couple from Glenside, PA was having some difficulties with the maintenance of their shower. They had recently remodeled their master shower and they chose ceramic tiles for the walls and floor because of their durability and versatility. As the couple later told us: "When we remodeled our shower, we chose ceramic because we heard it was durable and easy to clean, and it offered many options to choose from." After a few months, however, they found some negative changes on the surface. When performing their daily cleaning chores around the house, they noticed the grout lines on the shower's floor had a muddy appearance and the caulking in the joints had acquired a darkish color. The surface looked unhealthy and unclean. The couple was not pleased with the unsightly condition of their shower, so they decided to look for better solutions.
They read some home improvement magazines and found DIY methods for cleaning caulk and grout. The couple chose to follow the instructions that indicated making a mix of baking soda with water. As instructed, they made a paste and let it sit overnight. The next morning, they rinsed the surface with hot water and scrubbed for hours. Unfortunately, there were no positive changes. The couple was frustrated with the results. Luckily, a friend, who was a former Sir Grout Bucks PA and West NJ customer, came to visit and saw the problem in their shower. He told them he'd had a similar issue with his bathroom a couple of months earlier and our company had completely restored the surface with our caulking service. He highly recommended checking our website and contacting us.
They followed their friend's advice and went online to browse our site. The superior and professional service we offered was impressive, and they were surprised by the amount of positive comments and testimonials from previous satisfied customers we had. As the couple browsed the site, they found our
picture gallery
and it immediately caught their attention. The pictures showed them the results of our professional work and how showers with similar problems had been restored. Everything they saw certified us as a leading company in the hard surface restoration industry. It was a testament to the high-quality service we offer. They were convinced we could solve the issues in their shower and decided to fill out a "Request a Quote" form to schedule a free in-home consultation.
We arrived on the appointed date to begin the shower's evaluation and to offer the most effective solution for its restoration. After the introductions, we proceeded with the assessment. We noticed the grout lines on the floor were discolored, cracked, and muddy. The caulking in the wall joints suffered from the same issues and harbored mold and mildew. Also, the tiles were dingy and dim. This was caused by daily wear and tear in conjunction with the usage of harsh cleaning products. Upon closer inspection, we noticed the absence of sealant. This allowed water, dirt, grime, and soap scum to seep deep into the grout, causing more damage and potentially leading to more severe issues. The shower required professional assistance for a full restoration.
We explained that the caulking around their shower is important because it prevents water from leaking inside the walls, which could cause structural problems to their property. We also informed them the moldy walls posed a risk to their health because mold and mildew can cause allergic reactions. We offered a caulking service to fully re-caulk the joints in the shower and to prevent any future damage. We would use our top quality products and advanced techniques to ensure optimal results. We would clean the surface with our safe cleaners and replace the moldy caulk and grout with our resilient epoxy solution. We would finish by sealing the grout lines with our ColorSeal. This unique sealant provides protection against water, stains, and mold and mildew. After hearing we could solve their problem, the couple immediately agreed to set up a date for the job.
A few days later, we returned to the couple's house ready to begin the caulking process. It was going to be an exceptional and thorough procedure that required the highest quality products and skillful techniques. It consisted of several stages:
Cleaning the walls and floor using Sir Grout's proprietary tile and grout cleaner which is pH-neutral and safe for the grout. We used a high speed, gentle scrubber to remove all the dirt, grime, stains, and soap scum from the grout lines. We made sure the surface was completely pristine and spotless.
Cleaning the environment by eliminating all the mold and mildew. We used a high-temperature vapor cleaner to get rid of all the fungi from the shower.
Removing the old cracked grout and caulk and replacing them with our top quality epoxy grout. We removed the old, muddy caulk and replaced it with our advanced product, which consists of a hard composition that won't crack when scrubbed, providing easier cleaning routines in the future.
Sealing the grout lines using our ColorSeal. This top notch sealant is water-proof and stain-proof. It also shields the surface against dirt, grime, mold, and mildew. It comes in a variety of colors. We used the one desired by the owners.

Buffing the tiles with Tile Armor. Our one of a kind product leaves the walls and floor completely protected and prevents future damage. It enhances the tiles by giving them a refreshed, brand-new look while providing an extra layer of protection.
When the process was completed, the shower had a renewed appearance. The walls and floor looked pristine and spotless. The broken, muddy, and moldy caulk and grout had been replaced with a high-quality solution that would last for a long time. There were no traces left of dirt and grime in the grout lines. Everything looked brand new. Only our team's professional techniques and our exclusive products could have achieved this restoration.
We invited the couple to see the results of our experienced work. They were very happy and amazed with the renovated look of their shower. They said it had a brand-new atmosphere, and they were delighted with the outcome. The renovation we accomplished in their shower had gone beyond their expectations. After thanking us, the couple stated that from that point on, they would recommend Sir Grout Bucks PA and West NJ to all their friends, family, and neighbors. The wife even left us a testimonial on Google Reviews:
Janet S - Glenside, PA
May 23, 2018
The guys just left. Our custom-built master shower now looks AMAZING actually, even better than it did when it was first installed! My husband and I are beyond thrilled. The two guys were prompt, efficient, neat, and personable. I'm going to recommend Sir Grout to everyone I know! They were a joy to deal with from start to finish. Beautiful, beautiful job!!!
via:

We provide our clients with long-term results and we take time to train them on how to perform proper maintenance and how to preserve the top condition of their shower for years to come. Before we left, we gave the couple some recommendations and suggestions to keep their shower in top condition:
Try not to use bar soaps. Not using these types of soaps would reduce the accumulation of soap scum in the shower. One of the reasons for soap scum buildup on tile and grout is bar soap residue that has re-hardened on the surface. We recommend using gel soap. It offers an alternative that won't leave any harmful residue.
Use soap-free, pH-neutral cleaners that won't leave any residue. They are safe for the grout. The film left by soap-based cleaners seeps deep into the grout lines, promoting mold and mildew growth. Acidic cleaners, on the other hand, are harmful and can discolor or break the grout. These types of cleaners are not recommended and should be avoided.
Keep the bathroom dry and well ventilated, especially after hot showers. This is important to prevent fungi growth. The damp and moist environment is the perfect breeding ground for mold and mildew. Dry the surface using a squeegee, a towel, or a terry cloth. We also recommended leaving the door or a window open after using the shower.
These easy to follow steps and the quality of our restoration are guaranteed to keep the shower in great condition and provide easier and faster cleaning routines.
Sir Grout Bucks PA and West NJ has the solution for all your hard surface restoration problems. It is possible to bring back the beauty of your old, dingy shower with our professional and experienced work. We provide exceptional and remarkable caulking services that will restore your shower to its prime days. As a leading company in the hard surface restoration industry, we offer the most advanced and effective techniques to help you with your problem. Don't hesitate to contact us by calling
(215) 450-5763
or by filling out our "Request a Quote" form for a free in-home consultation. We will be happy to attend you. Also, be sure to subscribe to our
newsletter
to receive our latest info and promotions.
If you found this article helpful then let us know in the comments section below. Likewise, feel free to share it using the share options below. Want us to cover another topic of your interest pertaining to Hard Surface Restoration? If so, then like us and follow us on social media, and post to any of our social media profiles the topic you'd like us to discuss:
Facebook Sir Grout Bucks County
,
Instagram @sirgroutbuckspa
, and
Twitter @SirGrout
.